Walk The Line
Extended Cut (UK)
Blu-ray


April 19, 2014; 5:10pm PST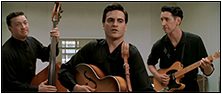 If you're a Cash fan, this movie is more than familiar to you, but for those who haven't seen performances by Joaquin Phoenix and Reese Witherspoon, you're in for some great performances.
Walk The Line (Extended Cut) (UK)

Little House On The Prairie
Season One & Pilot Movie
Blu-ray


April 13, 2014; 10:28am PST



It's been about 40 years since Little House On The Prairie aired on television and finally, the first season and the pilot movie, are available on Blu-ray. For those who aren't familiar with the Michael Landon Experience, you're in for a treat.
Little House On The Prairie: Season One & The Pilot Movie
Heat
Blu-ray


April 4, 2014; 8:49pm PST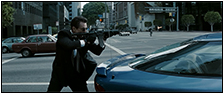 It's been a while since Heat was released in HD and the story is certainly legendary along with the actors in it. A few issues aside, if you haven't seen it yet, this is another movie to add to your collection.
Heat
Game Of Thrones
The Complete Third Season
Blu-ray


March 24, 2014; 7:03pm PST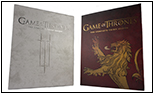 Got:S3 doesn't miss a beat with a bunch of surprising events happening, and you'll probably want to turn your phone off and just set aside some time to indulge yourself. Image quality, like the acting, are once again superb.
Game Of Thrones: Season 3
Men In Black 3
Blu-ray


March 11, 2014; 7:35pm PST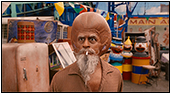 Just in case you haven't added Men In Black 3 to your collection, you'll have to put this on your list. Will Smith and Tommy Lee Jones are once again the perfect match. Speaking of Agent K, have you ever wondered what Young Agent K might have been like back in the 60's?
Men In Black 3
Iron Sky: Dictator's Cut
Steelbook Edition
Blu-ray


March 6, 2014; 7:48am PST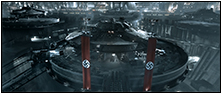 The new extended version of Iron Sky is finally available and in case you're wondering if it's worth getting...it is! Adding an additional 20-minutes of footage and a new soundtrack, this is the way Iron Sky should have been seen originally.
Iron Sky: Dictator's Cut
The Hunter
Blu-ray


February 26, 2014; 5:06pm PST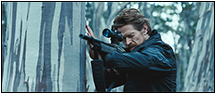 Martin is a mercenary who is under contract to kill what is likely the last surviving Tasmanian Tiger on the planet. Caught between environmentalists and commercial workers in the area, as well as a family who's father is missing and children who need attentive care, the mission gets a little complicated.
The Hunter
The Killing
The Complete First Season
Blu-ray


February 10, 2014; 6:14pm PST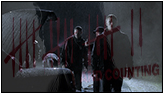 In case you haven't heard of The Killing, it's one of the best (i.e., rare) crime thrillers on television. Forget about the crime being solved by the time your favorite pizza takes to cook. You're in for a treat, and the more you watch...the more you'll love it.
The Killing: The Complete First Season
Everything Must Go
Blu-ray


January 20, 2014; 9:15pm PST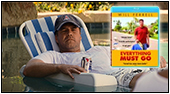 Nick just got fired from his 15-year sales job, and goes home to find out all of his possessions are on the front lawn. Oh, and his credit cards have been canceled. And his wife just left him. Life kinda sucks right now.
Everything Must Go
Hanna
Blu-ray


January 4, 2014; 9:05pm PST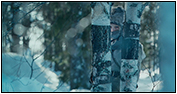 14-year old Hanna has been trained by her father to be an assassin for one last mission. Hanna knows her mother was killed by a rogue CIA agent, and she also knows she is the only one to exact revenge.
Hanna
World War Z
(Unrated Edition)
Blu-ray


December 31, 2013; 10:43pm PST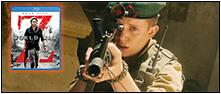 World War Z brings a rather exciting new perspective to the zombie genre. Nowhere is safe. Within seconds, you're infected. Running as fast as you can...might save you.
World War Z (Unrated Edition)
Mildred Pierce
(The Collector's Edition)
Blu-ray


December 22, 2013; 7:21pm PST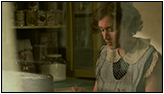 Mildred Pierce has been said to not follow the book or the original movie, however I found it to be one of HBO's better mini-series. The cast blends well with the time period, and the visuals have been articulately done.
Mildred Pierce (The Collector's Edition)
Lifeforce
(Collector's Edition)
Blu-ray


November 28, 2013; 3:49pm PST


Lifeforce might not be the perfect movie to watch on Thanksgiving with your family, but hey, it looks fabulous in HD. Still own the DVD? Well, finally, you can put it to rest and watch it for the first time on Blu-ray.
Lifeforce (Collector's Edition)
The Fog
(Collector's Edition)
Blu-ray


November 6, 2013; 8:40pm PST


When is the last time you've seen The Fog in high-definition? The time is now. Another Shout! Factory release where I am pleased.
The Fog (Collector's Edition)
Prince Of Darkness
(Collector's Edition)
Blu-ray


October 24, 2013; 10:02pm PST


Time to retire that DVD (and maybe even VHS) copy of Prince Of Darkness because it has finally been transferred faithfully to high definition. Ever ask yourself how that green canister would look on an HDTV? Well, it looks amazing! Shout! Factory has included extras on this Blu-ray release to make this film a true Collector's Edition.
Prince Of Darkness (Collector's Edition)
Cookie Clicker
by Orteil


October 13, 2013; 5:31pm PST


What happens when you combine an online game with chocolate chip cookies? Something deliciously fun!
Orteil's Cookie Clicker
BelPower Systems, LLC
Art Of Power
The TOWER
October 5, 2013; 12:36pm PST


A very interesting product which is offered under the Art Of Power brand from BelPower Systems, LLC is the TOWER. If you've ever dreaded retrieving your power strip from underneath your desk and wondered if there was something which was much more convenient and back-saving...you've come across the right device. DigitalDingus will be reviewing this device shortly, and until then, checkout the press release!
The TOWER (Press Release)
Homeland
The Complete First Season
Blu-ray


February 16, 2013; 7:00pm PST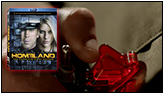 In case you haven't heard, Homeland is a series which will keep you in suspense from the first episode, and turn the characters into people you feel you actually know. Rarely does a series do this, which is why you're seeing the review here.
Homeland: The Complete First Season
Avatar
3-Disc Collector's Edition
Blu-ray


December 30, 2012; 8:40pm PST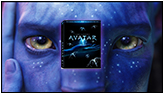 Avatar has the visuals which will make your High-Def Television come to life. With a storyline which is to be taken to heart and the adventures experienced, this is one edition you shouldn't pass up.
Avatar — 3-Disc Collector's Edition
DigitalDingus Movie Reviews: RSS Subscription Now Available
For those who want to be updated instantly when I add a reviewed movie, be sure to click on the buttons which your browser uses (if you're not sure, choose Google),


...or add the RSS XML URL page to your favorite News Aggregator:

You can also subscribe to the DigitalDingus RSS Movie Reviews feed and manually add the URL as well.
Samsung 830 64GB SSD Review Coming...
November 16, 2012; 2:41pm PST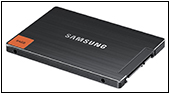 A Samsung 830 Series 64GB SSD (MZ-7PC064D/AM) is headed my direction shortly, and I will be using it, reviewing it, and have the review as a continuing process, so the life of the drive and any comments will be seen as time goes on. Samsung's 840 Series is already available, but I haven't particularly seen much of a difference to justify the price of the latest model vs. the 830. However, the 840 Pro Series looks rather fabulous if you can justify the price. In any case, SSD drives are becoming more affordable, and can be especially useful to those who don't want to completely build a new computer system in order to improve performance.
Can a person fork-out ~$100 to see a performance boost? We'll see...
November 24, 2012; 3:44pm PST
Update: Review is now available:
Prometheus
4-Disc Collector's Edition
Blu-ray


December 18, 2012; 7:43pm PST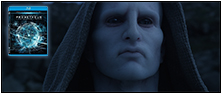 Prometheus is not only Ridley Scott's return to the Sci-Fi Horror scene, but a key film which is already manifesting debates on where this new prequel trilogy is headed.
Prometheus — 4-Disc Collector's Edition

Accelero XTREME Plus II
by Arctic Cooling


October 21, 2012; 12:46pm PST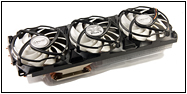 The Accelero XTREME Plus II has been around for a while, but it's one hell of a cooler — and it works. DigitalDingus installed one of these on an XFX ATI HD 6970 2GB graphics card. How much of a difference than stock does the Accelero XP2 bring to the Cooling Table? You gotta read this.
Accelero XTREME Plus II by Arctic Cooling
Transformers: Dark Of The Moon
Megatron Special Edition
Blu-ray


October 1, 2012; 8:58pm PST


Michael Bay brings us Transformers: Dark Of The Moon, and with this UK import, on a single Blu-ray disc by itself — no special features or extras. But this can be a good thing. With the Megatron transforming figure included, who needs extras. Prepare to be amazed.
Transformers: Dark Of The Moon
Game Of Thrones
Taragaryen Edition with House Stark Keychain
Blu-ray


September 26, 2012; 9:41pm PST


The first season of Game Of Thrones is something unlike your HDTV has seen before — including your mind. Get ready for some truly rich content and episodes that will keep you guessing until the first season ends.
Game Of Thrones: The Complete First Season
The Town
Ultimate Collector's Edition
Blu-ray


September 16, 2012; 6:39pm PST


There is only one way to obtain the acclaimed crime thriller The Town, and it's in the form of the Ultimate Collector's Edition. See this movie how Ben Affleck wanted it to be seen.
The Town: Ultimate Collector's Edition
The Walking Dead: Season Two
Blu-ray


September 7, 2012; 9:51pm PST


DigitalDingus is back from the dead, and so I thought the first review should be something fitting. How about The Walking Dead: Season Two with a special edition gross Zombie head?
The Walking Dead: Season Two
Ghost Bird
DVD


January 5, 2011; 9:30pm PST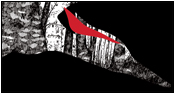 A rather interesting documentary by Scott Crocker has crossed my desk. I decided to review it. Ghost Bird tells the story of a once-thought extinct bird who resurfaces in the swamps of Arkansas. But is this the ivory-billed woodpecker?
Ghost Bird DVD Review
ClearStream Micron
Indoor HD Antenna
by Antennas Direct


June 20, 2010; 8:30pm PST


Antennas Direct has produced their first indoor HD antenna, and I have to say already--it works. Be sure to checkout the review of the CSM1, which is compact, slim, sleak, and should be an addition to anyone's HDTV setup.
ClearStream Micron HD Antenna by Antennas Direct
iBlink Earphones
by Elexa


October 11, 2009; 12:35am PST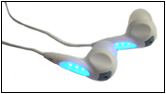 The iBlink Earphones could be a rather inexpensive way to solve two problems for those who are going to be outdoors at night. Listening to your favorite tunes and making sure you're seen. The iBlink Earphones are charged by a convenient USB cable and come with additional gel inserts to fit bigger ears and smaller ones as well.
iBlink Earphones by Elexa
JumpStart Sport
by DigiPower


July 8, 2009; 11:05pm PST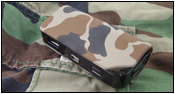 DigiPower has a new device which is going to make you re-think how portable power is delivered and used. The JumpStart Sport is an extremely lightweight and compact device which comes with a variety of adapters to power MP3 players, portable gaming devices, GPS devices, cell phones, and enhanced cell phones.
JumpStart Sport by DigiPower
The Silence Of The Lambs
Blu-Ray


May 22, 2009; 11:27pm PST


Some may not remember, but The Silence Of The Lambs is where the Serial Killer Genre took root and created dozens of subsequent television shows and movies. This is the first time TSOTL is on an HD format and it doesn't look too bad.
The Silence Of The Lambs (Blu-ray)
Fitbrains.com


May 5, 2009; 8:29pm PST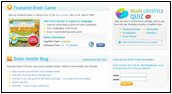 Fitbrains.com is a rather interesting and entertaining website which is designed to make you think. Yes, I know, this is odd for an internet website to actually make you think, but they are out there, and DigitalDingus came across this one. If you're looking for some brain stimulation, take a look at this website.
Fitbrains.com
Kung Fu Panda Blu-Ray


April 5, 2009; 10:55pm PST


Jack Black is Po, a misunderstood panda, in a rather funny animated movie, Kung Fu Panda. Po has dreams of becoming a Dragon Warrior, but there is danger lurking in the near future, and it is up to Po to find strength to protect a village from certain harm.
Kung Fu Panda (Blu-ray)
HJ-720ITC Pocket Pedometer
by Omron


April 1, 2009; 7:12pm PST


DigitalDingus has been absent over the last several months, and much of the reason for it, is changing my lifestyle. Losing weight is a difficult task, not only because it requires coming face to face with your addictive eating behaviors, but it's also frustrating to track progress. Omron's HJ-720ITC Pocket Pedometer is designed for simple use, where you enter in a minimal amount of information. The HJ-720ITC then tracks your steps, to be later viewed on a nice graphical interface, revealing calories burned, fat burned, distance, and more.
Omron HJ-720ITC Pocket Pedometer