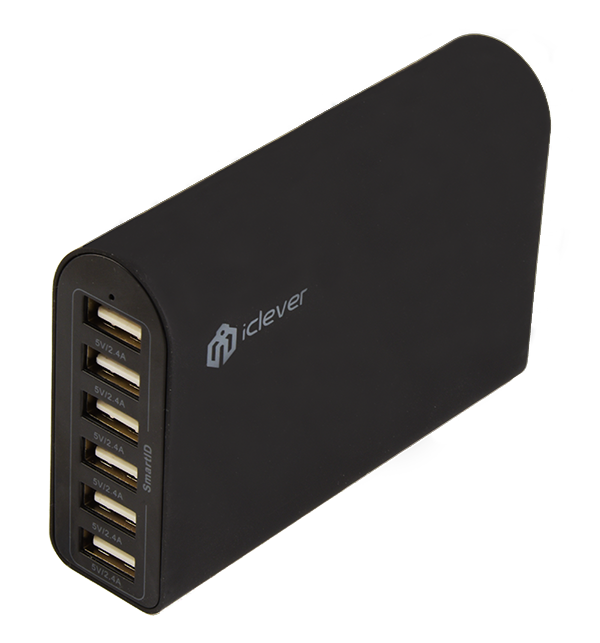 iClever 6-Port USB Travel Wall Charger
Introduction
One of the major obstacles I have when I travel outside of my home, is making sure I have the proper charger for my smartphone and additional smart device chargers. And what usually happens, is I have way too many cords to hookup when I'm temporarily away from my comfort zone. Additionally, I really don't look forward to unplugging my AC chargers for my devices, because they are exactly where I like them to be, and they have been there for a long time. So, yes, I like the predictable nature of having all my chargers and cables in one spot, and I try to avoid moving that area at all costs. I do not like returning home, hooking up my chargers again, and trying to figure out what went where.
iClever is a branch of HISGADGET, and specializes in the latest charging products for consumers who want something unique, offering the latest technology, and with an advantage of having a reasonable price tag.
A Smarter Charger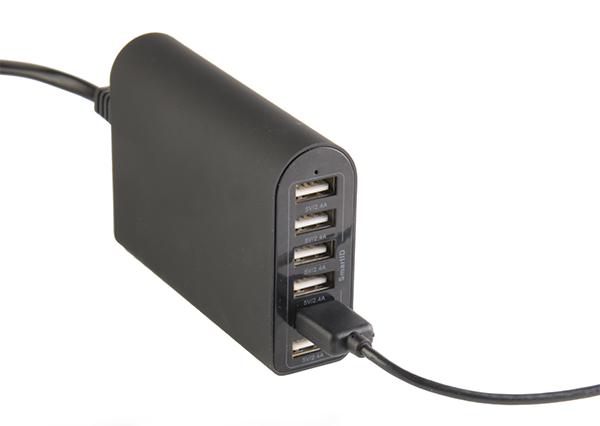 With this particular charger, SmartID technology is integrated. A typical charger cannot "sense" what type of device is connected to it, and for the most part, it's up to the person to figure out which is the appropriate charger. For me personally, it's not uncommon to accidentally grab the wrong charger for my phone, and then a few hours later wonder why it's taking so long to complete a charge. SmartID circuitry allows you to plug in the device and the charger will determine just how much power current should be delivered to it, allowing for maximum efficiency, as well as a faster charge.
Below is an image from iClever themselves, which reveals just how portable and simple — but yet highly advanced and effective — the 6-port charger really is.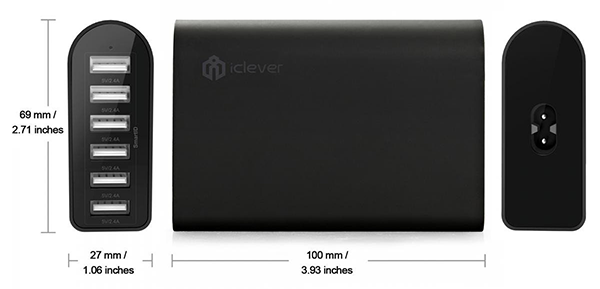 Some of you might be wondering why so many ports on this particular charger, but you'll easily fill this up once you do a checklist of your current devices. A smartphone, tablet, a few portable charging units to be charged themselves, and we're already at 4 ports being used. Looking at all the digital gadgets I already have, I'm hoping iClever comes out with a 12-port version.
One of the biggest benefits of owning this charger, is I can now leave all my AC chargers at home, and just take the USB charging cables along with me. When traveling, the less the better, and may God have mercy on your soul if you still fly, because your carry-on baggage space is more sacred than ever — and more expensive than ever. An average count of 5 AC chargers can take up a lot of room.
Pros
Replace 6 of your AC chargers

Very portable for traveling

SmartID Technology

Affordable

Keep your large AC chargers at home where they should be

Quality material

Confusion of which port to charge which device has been dramatically reduced — if not completely removed from the charging dilemma consumers experience
Cons
Observations
Modern design with a minimal profile to fit 6 USB charging ports comfortably

There's a very small hole on the top-front of the iClever 6-port which has a green LED and lights up when it's turned on. The design of this was meant to not be too intrusive, and only viewing the charger at a slight upward angle will see the green LED entirely.
Suggestions
Conclusion
iClever's 6-port USB smart charger is an affordable device which will replace up to 6 of your bulky AC chargers. The only cables you'll need are the USB charging cables supplied with your device. That's it. Plug them into any port on the iClever charger, and let it do it's thing.
One of the most clutter-reducing chargers for digital devices I've used, paired with an inexpensive price tag and a quality but yet modern design, the iClever 6-Port 50W 10A Fast USB Desktop Charger (with SmartID) easily gets a solid HIGHLY RECOMMENDED.
iClever has a wide range of other devices, and I encourage viewers to not only browse iClever's website, but also take a tour of HISGADGET as well. There are several product offerings for those who are using products on the technology edge.